[LONG READ. YOU HAVE BEEN WARNED ;P ]

Hello there! Thank you for diverting your attention here, person!
I hope you are as well as the current situation allows you to be.
Have a great day/night onward!

This summer (August, I think), I was tipped off by a dear friend of mine, @NyanaCreation , that there would be a winter Comic-Con in the Dutch city of Utrecht the 18th & 19th of November. I was overjoyed, as I did not think there would be such a gathering on this side of the Atlantic within the year (except the one in Manchester, but when that Con is arranged, I'm busy with my job). I had returned from the New York Comic-Con in late October, and I had time to take a vacation, given I work from June till the end of August.

So I prepared my costume, using a combination of the old outfit and a "new" set of armor from this guy: https://www.etsy.com/no-en/shop/CyperianDesigns , polish, cosplayer and costume maker, great to talk with, talanted, amitious, always working on a costume. Ezio's outfit from Assassin's Creed: Revelations, then, probably, Miraak from The Elder Scrolls 5: Skyrim (more specifically, it's expansion pack "Dragonborn")

I didn't take any weapon props with me, partly because I didn't want to get encumbered, wanted have spare room in my baggage for souvenirs and presents, and partly because I was unsure about the prop weapons policy at the convention. I later found out those rules of the Utrecht Winter C-C are much, much looser than in New York. You can bring pretty much anything that isn't sharp. Saw people who had prop grenades, knives, rather convincing guns (some with marked muzzles, others without), and more. I'll get back to the convention, it's sights, and it's people, later :)
First, what I did before the con; being a tourist in Utrecht.

The hotel I stayed at was approx. 40 km south from the Jaarbeurs center, where the Con would be held.
I arrived at my hotel in the evening, checked in, was fast asleep. Relaxed the next day. Showered, then had a bath in a bathtub. Love bathtubs, could only use them once a year when we visited relatives, long time since that. Last bath in a bathtub was in November 2015, in Searchlight, a small town in Nevada, USA.

Anyway, the hotel also had an indoor swimming pool and a sauna, I used both at one occation.
I was a long way from a grocery/colonial store, so my diet consisted of... oufh... vending machine snacks :/
Small bags of chips with various spices, small bars of chocolate, M&Ms with peanuts, small, spiced beef-sticks. All these things came quite cheap, fortunately. But I still rationed and ate sparingly. Probably (and hopefully) saved a lot of money... cheaper than buying bread, butter, cheese and some kind of ham or salami. I drank tap water. Which I was fine with. If I didn't mind drinking Beijing tap water, I would not mind Utrecht tap water ;)

As the observant reader may or may not have noticed, there is a gap between when my vacation started, and the Con itself. I filled that gap with a nice excursion: De Haar Castle. Heard of it?
If you haven't, that's fine, I didn't know about it until I read about Utrecht in August.
If you have heard of the castle, then good for you, person of culture and/or knowledge!
I got the lobby to call a taxi for me for it to be there at noon.
I spotted the taxi outside the front entrance, so I hurried through the lobby, past some men in suits (the hotel was semi high-roller), and out the doors. The taxi was empty. I checked my surroundings, no apparent taxi driver in sight, so I decided to wait by the car, though the driver was using the bathroom of something. Then out the hotel doors comes a businessman, judging from his suit. He walked purposefully toward me.
"Mister Johansen?"
"Uuh yeah? That's me."
"Hello, good morning, I'm *****, your driver. I waited in the lobby, but you just walked right past me!", he said with a grin. I was amused, and slightly embarrassed. "I didn't expect the taxi driver to look like this," I said bluntly, gesturing at his grey suit, white shirt and yellow tie. His appearance caught me off guard: in Norway, taxi drivers usually only wear a simple black fleece vest over their everyday clothing, usually jeans and a sweater. However, bus drivers in Nederland and Norway are dressed the same: white shirt, often with a tie, and black trousers to go with a suit.
The driver gave me his calling card, so I could call him (to be polite, I was never going to call him before 10:00 in the morning, during dinnertime 17:00-19:00, and after 22:00. Doing so seem bothersome to me).

So off to the castle we drove. The trip took about 20 minutes, since it is located in the outskirts of Utrecht.
The castle, as well as the castle grounds (park, pathways) was much bigger than I had originally thought.
The pictures you find when you search will most likely don't show the sheer scale of it, the complex is indeed massive. I would recommend photography and recordings taken from the air. Some history of the place:

The modern castle stands atop of ruins from approx 1400. Several versions had been built, demolished or ruined, and rebuilt again, until 1890, when it was inherited by a baron who had recently married a member of the rich and influential Rothschild family, Hélène van Zuylen (nee de Rothschild). The family however, did not particularly approve the marriage, and disinherited her. The family did however give the couple a one-time deposit to rebuild the castle.
Master architect P. J. H. Cuypers was hired to oversee the reconstruction, and he made several changes and improvements himself, collaborating closely with the baron and baroness. Both the baroness and the architect were very stubborn (she preferred french (Versailles), he preferred Neo-Gothic (Cologne Cathedral)), the results of this could be seen for example when one would enter the baroness' bedroom: there was a pale pink, french styled door to her room; Cuypers found it so mismatching that he connected a second, neutral door, infront of it!
When the castle was buildt, it was fitted with as many amenities and luxuries as possible, all state-of-the-art, at the time. Electricity, sentral heating, water pipes with hot and cold water running through the castle... The Haar Castle was even more advanced than the Dutch royal palace, and so parts of the royal family would visit often. Banquets were held, and to this day, it is still possible to rent parts of the castle for an evening for a luxurious meeting, wedding, or other important occasions.

I didn't follow any schedule for the castle visit, so I took my time, and strolled around the complex, admiring the garden, the small, angel statues, the castle itself, complete with a moat! Spoke for at least an hour with a couple of the guides, learned that most of them work there volunarily, without pay! Honorable, done my share of that myself, actually. Their reasons for working there for free were almost identical to mine, when I volunteered: working in, seeing, and knowing such an epic location can be payment enough in itself.

Okay, time to (finally) talk about the Con! :D
I saw so many amazing costumes, large and small, in all shapes and sizes. Some were from franchises I didn't know about, others were quite familiar. Since I'm a gamer, I focused on people with costumes from video-games. Saw 2 pairs of Joel and Ellie's, many Ezio's, 4 from The Elder Scrolls (Aela the Huntress, a female in lightweight Metal Armor and Metal Helmet, a female Bosmer (Wood Elf) Necromancer, and a Khajiit :D (who was actually from Norway, holy sh!t, the chances of that were microscopic :D )

I wore a costume.
That's me in the middle.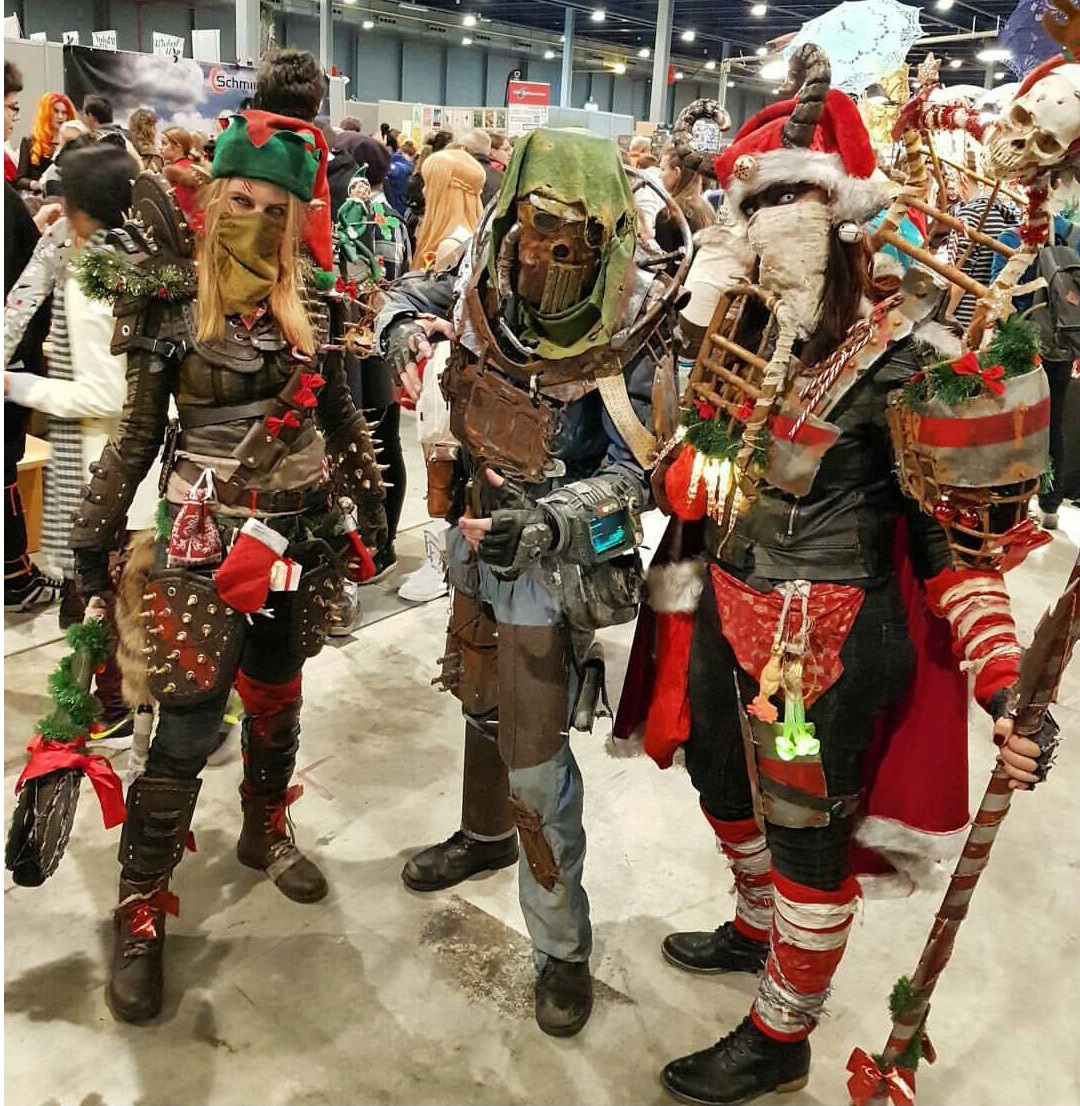 Those two are "Raptobot":
Search on Insta or FB or
Google or something. Wonderful leather/Raider armor with christmas decorations! Extremely detailed. Highly impressed!
(right-click --> view picture!!)

Met other Fallout fans, 4 that I talked to for a long time.
I saw The Mysterious Stranger,
a Vault 19 survivor,
a ghoulette,
a King (Freeside),
a Courier,
a woman in a homemade Vault-dress and a RAD homemade Pip-Boy, full of lights!

More pictures will come later.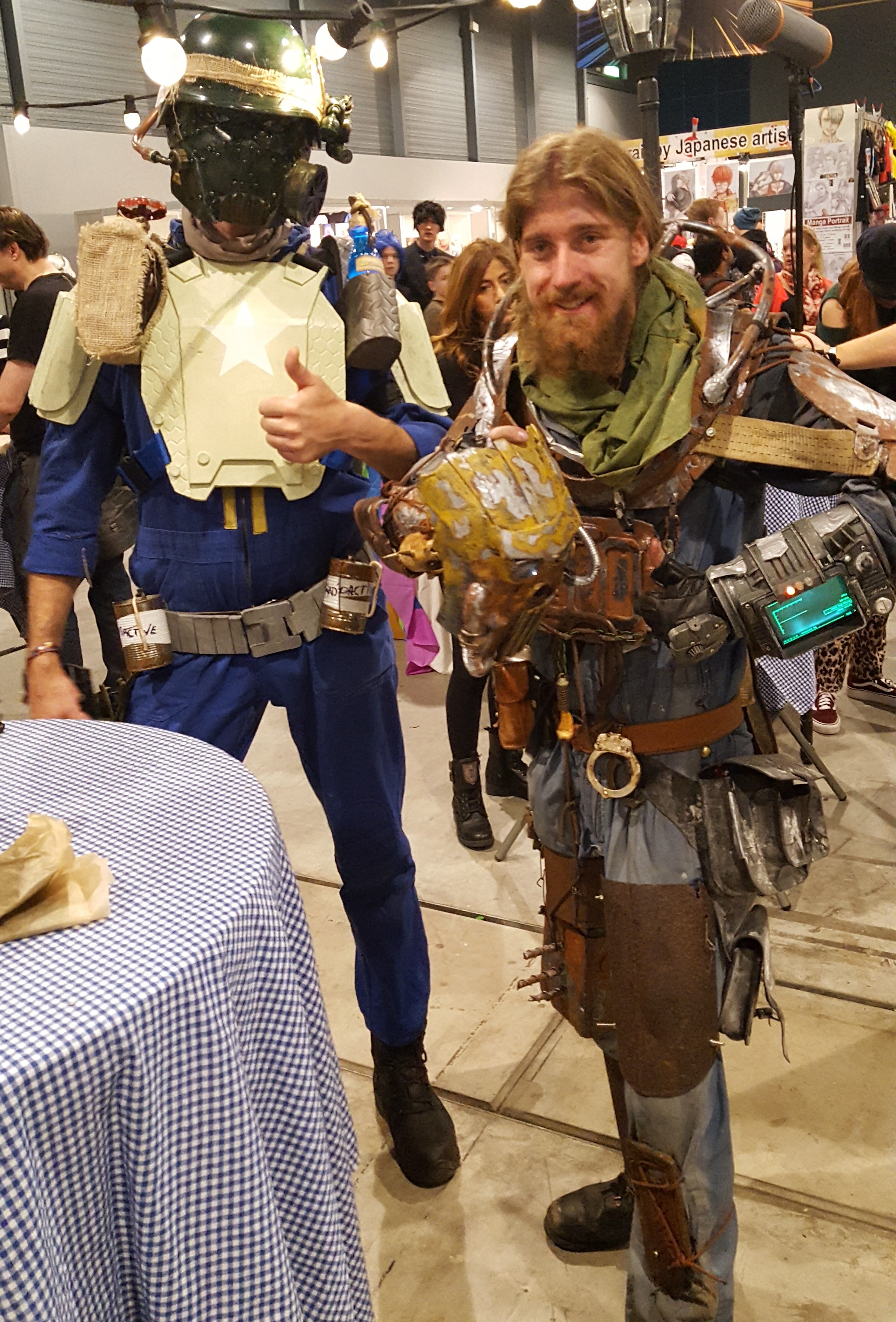 Thank you so much for your time, and I hope you have a terrific day/night!

Ta-ta!
-E.